I am not a historian by inclination. Being young means you focus more on the future and where you want to be when it gets here. But because of several projects that required research into Birmingham's past has shown me the value of understanding the here and now.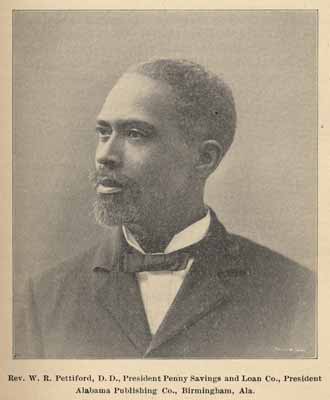 For instance, I am learning the history of Rev. William R. Pettiford (1847-1914) and his extraordinary leadership of Birmingham's Black community during the city's earliest decades. Rev. Pettiford ascribed to the Booker T. Washington philosophy of Black self-help and solidarity, industrial training, homeownership and entrepreneurship. He practiced what he preached.
He helped men and women form social improvement groups around a variety of areas vital to the community's sustainability. Among his greatest achievements was establishing the Alabama Penny Savings Bank, where Blacks, who often times could get loans nowhere else, got mortgages to build houses. The bank was so successful that at one point it lent cash to one of Birmingham's premier banks as people panicked during an economic depression in the 1890s and rushed to pull their money out before a crash.
His second achievement was convincing racially insensitive city leaders to build a high school for Black students (since Negroes were subservient to the larger population, it was believed they didn't need an education beyond grade school). In the fall of 1899, Negro High School on Southside welcomed its first class of students. The school later moved to Smithfield and its name changed to Parker High in honor of its first principal, Arthur Harold Parker.
And of course, Pettiford was instrumental part of the growth of 16th Street Baptist Church as one of its first pastors. And we know the vital role that church played in the Civil Rights Movement.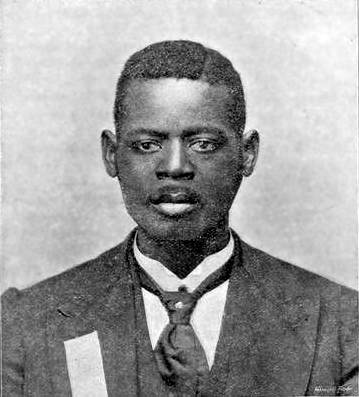 Pettiford was a leader among other prominent black pastors in Birmingham including Rev. Thomas Walker, an emancipated slave who, despite not having a formal education, was one of the founding members of Birmingham Baptist College. Rev. Walker also founded an insurance company that catered to another neglected need in his community. In February 1901, Union Central became the first African American Insurance Association to be officially chartered in Alabama.
The Smithfield Historic Preservation Society and the Metro Birmingham Branch of the NAACP are hosting a Black History program honoring these leaders and those who have followed in their footsteps. It will be held 6:30 p.m. this Friday, Feb. 24, at Tabernacle Baptist Church (600 Center Street). The program features the Selma University Choir and the Greater Shiloh Missionary Baptist Church Male Chorus. The program is FREE and open to the public.
The Legacy of Success
Success does run in our race. I wish our kids better understood the stock that they come from and the shoulders on which they stand. There is a proud legacy of work, sacrifice and organization of people who came before, who lived in much tougher circumstances, who accomplished so much with so little. I wish they better understood that they now have a better chance of success because many of the barriers that limited their forefathers and foremothers don't stop them now.
But they don't know, because it's not being taught. And this is where history's lessons can be beneficial. And even those who don't know, the drive for success is so stuck in the DNA that they can't help but be successful.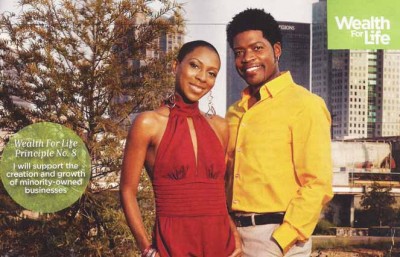 That's why I am so proud of Darrius and Meagan Peace, the founders of the Magic City Black Expo, who created a venue for other aspiring black entrepreneurs. The one-day expo is Saturday, with tickets at $10. I've written about them here. And they got a big push in Black Enterprise magazine last year. Plus, they were invited to the White House to take part in a special young urban entrepreneurs roundtable, the Buy Young Entrepreneurial Summit, an invitation-only event at the White House and U.S. Chamber of Commerce in Washington, D.C. last July. They are stars whose light is attracting positive attention to the city. And we just can't get enough of that, right?
JSU Play Honors Rev. Fred Shuttlesworth
Another little known Black History fact is the role that the Rev. Fred L. Shuttlesworth played in the groundbreaking 1961 Freedom Rides. He rescued the young riders who were viciously attacked in Birmingham. He also sent a caravan, with bodyguard Colonel Stone Johnson (God rest his soul!) leading the way, to rescue the riders in Anniston whose bus was firebombed by an angry mob of white townsfolk.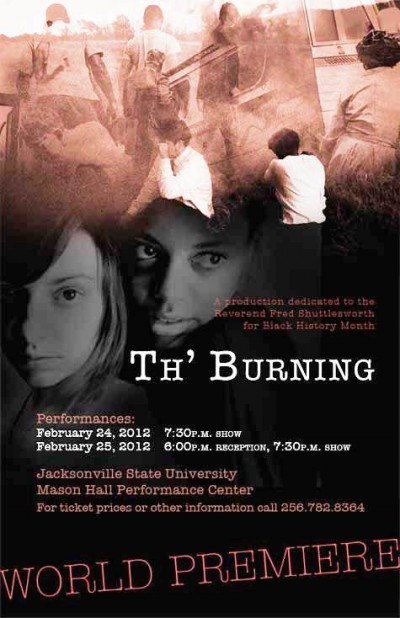 Jacksonville State University's theater troupe is honoring Shuttlesworth and his efforts with the Freedom Riders in a new stage production, "Th' Burning." It's a fictionalized account of the Anniston story told from the perspective of two young girl protagonists, one black and the other white.
The first show is Friday, Feb. 24th at 7:30 p.m. On Saturday, Feb. 25th, is a pre-show reception and music at 6 p.m., followed by a second show at 7:30 show. Tickets for Friday's performance are $5; for Saturday, tickets are $15 for adults, $12 for students. Proceeds will go to JSU's Black Alumni Association's Scholarship Fund.
 UNCF Gala Featuring Chaka Khan
In addition to these events, the United Negro College Fund will host its 2012 Masked Gala to raise funds to support education for students who are in need of financial assistance.  "This support helps students stay in college and graduate, allowing them to fulfill their educational aspirations," said ," said UNCF Director Walvid King. "We thank (sponsors) BP America and all of our supporters and hope we have more support at the gala from everyone who believes that a mind is a terrible thing to waste."
Ten-time Grammy award winner Chaka Khan, known as the  " Queen of Funk," is the Gala's featured after-dinner entertainment at the MASKED GALA. Her signature hits as a solo performer include, "Ain't Nobody," " I'm Every Woman," " I Feel for You" and " Through the Fire."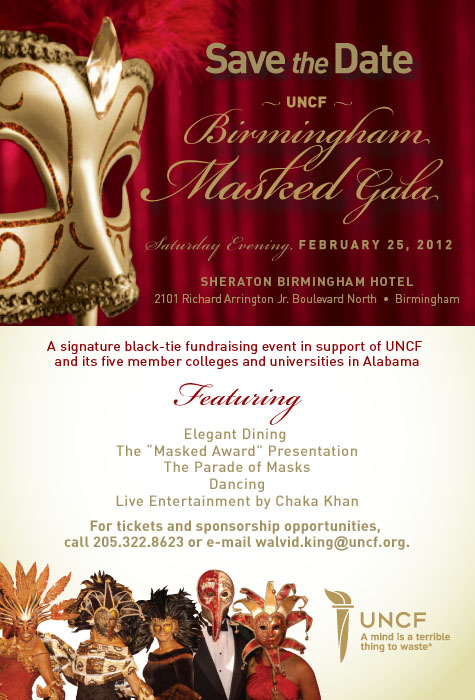 Individual tickets are $150 and tables start at $3,500. For ticket and sponsorship information, contact the UNCF Birmingham office at 205-322-8623 or visit online at give.uncf.org/Birmingham.