On Wednesday Thursday, journalism colleague Kathy Times nationally launches her new website – aimed at improving the status of black-owned businesses – in Birmingham that is known as the universal vortex of the civil and human rights movement.
Where2Go411.com is an online destination to help connect black enterprises to local and national buyers, including city governments, school boards, counties, airport authorities, and other entities specifically seeking to aid the growth of these businesses.
Now, if you're questioning the connection between Birmingham's civil and human rights history and this announcement, please let me connect the dots for you.
Traditionally, we have all been taught that the Movement, particularly in Birmingham, had to do with claiming the rights of full citizenship – integration, equal treatment under the law, fair hiring, voting without obstruction – and simply being treated with the same general courtesy as any other human being regardless of race. Simple enough.
But at the core of this push for equality was also the opportunity to take full advantage of being human in America, by pursuing the American Dream of self-determination. And with it comes the opportunity to build wealth. For some, that meant owning businesses that have an equal chance of success as any other business.
From Day 1 of colonized America, the first thing any group of newcomers started when they hit these shores is commerce. After all, trade is the essence of human interaction outside the family. I need something, you've got it, we negotiate, exchange goods and/or money, and make the trade.
I've had to remind my lighter-skinned brothers and sisters that every other ethnic group has successfully been able to take advantage of the American economic engine. Birmingham itself is a microcosm of that phenomenon at work. This city is the home of Jewish, Greek, Italian, and lately, Hispanic immigrants, who built shops and stores by buying from each other, which circulated money within their respective communities (especially since they too were ostracized by the larger white society). The more money they had, the more they spent among themselves. And with the spending came better education, even more money, more growth, and more opportunity. All this stimulated society's larger economic engine. In short, each group contributed to the growth of America's economy.
Now, African Americans contributed to that growth too. But it was not as the captains of capital, but as the means of capital; free and cheap human laborers as slaves and sharecroppers. Freedom gave Blacks greater economic opportunities, but they were thwarted or stunted at almost every turn because of institutional racism. The destruction of the African American Greenwood community and its businesses in Tulsa, Oklahoma (known as "Negro Wall Street)" is a glaring example of what I mean.
Ironically, while the Movement freed many African Americans to individually pursue their dreams (some spectacularly so), it had the opposite effect on us as a group. With the freedom to go to anywhere, Blacks spent their money in stores owned by folks who'd already had a head start in the economic game and had better stuff to offer. In essence, black people's money fueled the economic dreams of other people while starving their own.
This economic conundrum is why most black-owned businesses – and therefore, the communities in which they're located – are underdeveloped compared to other ethnic groups. The lack of economic growth has serious consequences.
The question now, is there any way to reverse the economic ravages of a racist past and forge a non-racist future? How can you do that if you focus on the business owner's race or color, apparently in contradiction to the Movement's message that seem to say, "Be colorblind" and "Look out for the welfare of all"? Kind of tricky, isn't it?
Few understand that Dr. Martin Luther King, Jr., was looking for solutions to this very problem up to the day he was assassinated. Some of King's last words in his final "Mountaintop Speech" show some of the new Movement strategies he would use to strengthen blacks economically:
We are poor. Never stop and forget that collectively — that means all of us together — collectively we are richer than all the nations in the world, with the exception of nine. Did you ever think about that?  . . . That's power right there, if we know how to pool it . . .
We don't have to argue with anybody. We don't have to curse and go around acting bad with our words. We don't need any bricks and bottles. We don't need any Molotov cocktails. We just need to go around to these stores, and to these massive industries in our country, and say, "God sent us by here, to say to you that you're not treating his children right. And we've come by here to ask you to make the first item on your agenda fair treatment, where God's children are concerned. Now, if you are not prepared to do that, we do have an agenda that we must follow. And our agenda calls for withdrawing economic support from you. . .
But not only that, we've got to strengthen black institutions. I call upon you to take your money out of the banks downtown and deposit your money in Tri-State Bank . . . Put your money there. You have six or seven black insurance companies here in the city of Memphis. Take out your insurance there. We want to have an "insurance-in."
Now these are some practical things that we can do. We begin the process of building a greater economic base . . ." (hear the entire video here)
If this country, still in the grips of a roiling, worldwide economic crisis, is to resolve its economic woes, we have to do two things: control the dangerous economic risk-taking excesses of the too-rich-to-fail 1-3% and focus on stimulating the power of the 99-97%. After all, the job creators are likely the small business owners among the high-income end of 99-percenters.
And if growing African American business community can reverse its 350-year curse of stunted economic prosperity, as Kathy and scores of other policy-conscience people are trying to do, we should all consider doing what we can to help. Maybe it's time to closely examine what Dr. King saw as he stood on the mountaintop and surveyed the "Promised Land" for his people. In the end, I believe, following his vision will help us all. Strengthening the chain's weakest link makes it stronger.
So come on, Kathy Times and Where2go411.com, and all the others with similar ideas – including my friends Darrius and Meagan Peace, founders of the Magic City Black Expo (who brought Maggie Anderson of the Empowerment Experiment), Bob Dickerson, co-founder of  the A.G. Gaston Conference, among others, and even the White House.
The world is watching and waiting for the new economic Movement coming from Birmingham, Alabama.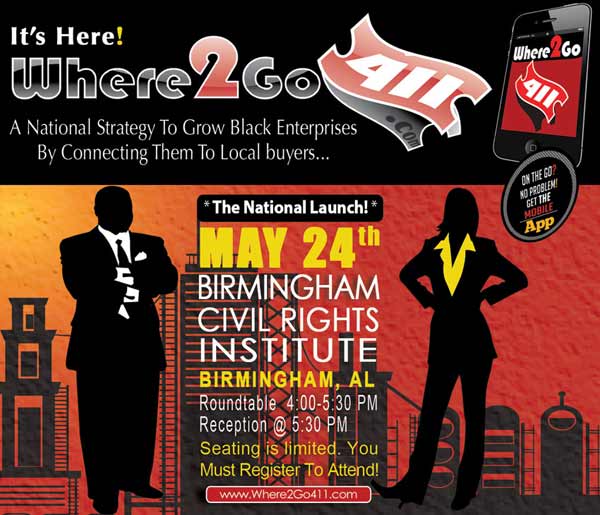 Details:
Register online for the national May 24 launch of the Where2Go411 by clicking HERE.